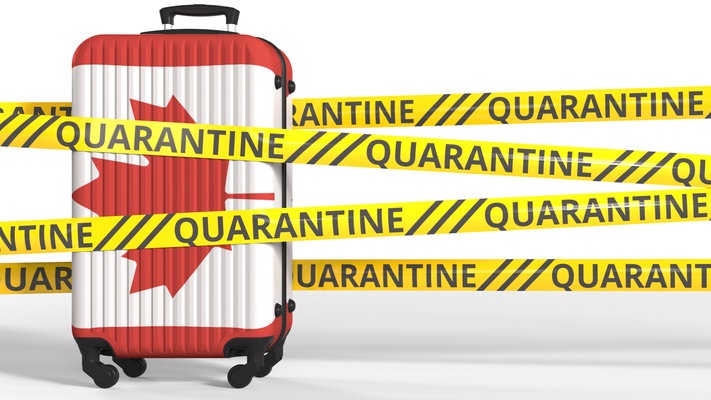 LAST UPDATED: February 9, 2022
Imagine the following scenario:
You're travelling outside Canada and getting ready to return home. You take your mandatory pre-entry COVID-19 test within 72 hours of your expected return to Canada, and your test comes back positive for COVID-19!
Suddenly, you're forced to remain in your travel destination for an extended period until you can comply with the Canadian government's COVID-19 pre-entry testing rules, resulting in extra out-of-pocket travel expenses that you hadn't budgeted for.
While scenarios like the one described above used to be rare, they have become much more common since the onset of the COVID-19 Omicron variant, which has proven to be significantly more transmissible than previous COVID-19 strains.
As of January 15th, 2022, the Government of Canada requires that travellers who test positive for COVID-19 while outside Canada must wait 10 days to re-enter Canada after a positive COVID-19 test result.
If you don't meet this requirement and are flying home to Canada, you will be denied boarding for your flight. If you are driving home to Canada, you will be allowed to enter Canada but will be subject to a fine of $5,000 per traveller (plus surcharges).
Accordingly, snowbirds and other Canadian travellers should be prepared for the very real possibility that you may contract COVID-19 while travelling – in some cases close to your scheduled return date to Canada - and be forced to stay longer in your travel destination than originally anticipated, even if your symptoms are mild or you are asymptomatic.
Having to extend your stay can result in significant unexpected costs like accommodations, food, taxis and flight change fees.
To help defer some of these unexpected travel costs, some travel medical insurance policies provide subsistence benefits - sometimes referred to as "quarantine coverage" benefits – that reimburse you for certain costs in the event that you contract COVID-19 while travelling and you or your travel companion(s) are prevented from returning home as originally planned due to COVID related travel restrictions.
Here's what you need to know about subsistence/quarantine coverage for COVID-19 and whether or not it makes sense for you.
What is "Quarantine" coverage and what expesnes does it cover?
"Quarantine" coverage benefits reimburse you for certain out-of-pocket expenses in the event that you contract COVID-19 while travelling and need to delay your return to Canada because you are required to quarantine or self isolate in your destination, or if you are denied boarding for your flight due to a positive COVID-19 pre-boarding screening test.
The types of expenses covered by quarantine benefits vary from provider to provider, but typical expenses that might be covered include:
Accommodations

Meals

Local Ground Transportation (i.e. taxis, ride-sharing services, etc…)

Essential Phone Calls

Flight Change/Booking Costs
In many cases, you'll need to obtain approval from your insurance company before incurring any expenses if you want to be reimbursed and you'll need to keep your receipts as proof of these expenses to submit to your insurance provider when making your claim.
It's also important to be aware that these benefits will also have per-day limits as well as an overall limit. For example, $200 per day to a maximum overall amount of $2,000 for eligible expenses. If your policy includes coverage for flight changes/booking costs, it will likely have a maximum overall amount, i.e. $300. Keep in mind that these amounts are just examples and actual coverage limits will vary among providers.
The terms and conditions of quarantine/subsistence benefits will also vary from provider to provider, so it's important to make sure you understand the terms of your travel insurance policy as they relate to this benefit.
Where can I get quarantine coverage?
Some travel insurance providers have introduced subsistence/quarantine benefits for COVID-19 in their travel medical insurance policies, while others have not.
The form in which these benefits are offered varies depending on the provider. In some cases, they have been included in stand-alone COVID-19 travel medical insurance policies, in other cases, they are part of a COVID-19 "Rider" to an underlying policy, or they may simply be included in the provider's standard policy.
It's also important to point out that these benefits may not always be referred to specifically as "quarantine" benefits in the policy. They may be referred to as subsistence benefits or trip interruption benefits - or some other name - and may not always specifically refer to COVID-19.
When purchasing your travel insurance, make sure to ask your insurance company, broker or agent if your travel medical insurance policy will reimburse you for additional expenses should you contract COVID-19 while travelling and are unable to return to Canada on your scheduled return date. Also, ask them to point out the specific language that provides this benefit and to explain the terms of conditions of such coverage.
Who should consider quarantine coverage?
If you're concerned about travelling and getting COVID-19 while you're away and the extra out-of-pocket expenses you might incur as a result of having to extend your stay, you should seriously consider a policy that offers "quarantine" coverage.
Even if you own a home or condo in your travel destination and don't need to incur additional accommodation expenses, quarantine/subsistence benefits can help protect you against some of the other expenses you might experience.
Snowbird Advisor Insurance's Policies
Most of the Manulife travel medical insurance policies offered by Snowbird Advisor Insurance include quarantine coverage for COVID-19, either directly in the policy or in the form of a COVID Rider. Quarantine coverage limits and benefits can vary depending on the type of policy you are purchasing.

Blue Cross

travel medical insurance policies do not offer quarantine coverage.
Disclaimer: The material provided in the Snowbird Advisor Insurance Learning Centre is for informational purposes only and does NOT constitute insurance, legal, financial or other advice, and should not be relied on as such. If you require such advice, you should speak with a qualified professional to assist you.